Diagnostic instruments - Search for and buy medical instruments for diagnostics in the shop for medical technology.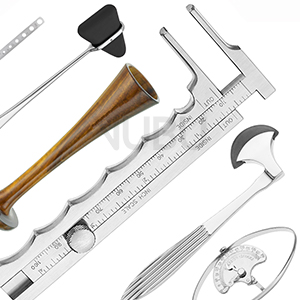 Our diagnostic tools are used to examine the patient. They allow the physician to provide a first diagnosis and rule out possible diseases. Our instruments for diagnosis include: reflex hammer, percussion hammer, stethoscope, sphygmomanometer, dynamometer, scale, tape measure, otoscope, forehead mirrors and others.
Customer information on the concept of diagnostics or examination
Diagnostics in the medical and psychotherapy professions as well as in the health professions or psychology is the exact assignment of findings - diagnostic signs or symptoms - to a concept of illness or symptoms in the sense of a syndrome. The established syndrome, together with the suspected cause and origin of the disease, make the diagnosis. The diagnosis is the classification of phenomena and their interpretation, such as those of "health" or "being sick". The methods of diagnosis (e.g. anamnesis, physical examination, application of imaging methods such as X-ray / MRI or analysis with laboratory values ​​of blood and other body fluids) are summarized with the term diagnostics. The diagnostic procedure always strives for a diagnosis that can be made if the constellation of the collected anamnestic information and / or findings is specific to a clinical picture. If the findings are not sufficient for this, further medical examinations are usually necessary to confirm the diagnosis. Some diseases are only characterized by non-specific symptoms. In these cases, the number of possible diagnoses is continually restricted until there is a sufficient basis for deciding on a specific exclusion diagnosis or at least a specific therapeutic procedure.