Buy surgical retractors, wound blockers and abdominal wall holders directly in the shop for medical technology.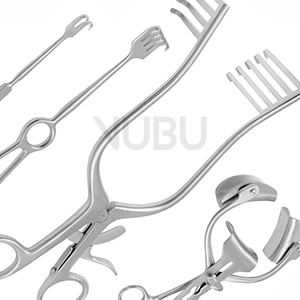 Retractors are particularly suited to pull apart tissues such as skin and the fat layer underneath. Blunt retractors are more commonly used in order to avoid damaging the surrounding tissue. Special versions are self-retaining retractors, so-called vertebral Columns. A built-in locking device spreads the two arms of the instrument to prevent the separated edges of tissue from contracting. As the name implies, Abdominal Retractors are developed for this, so that the doctor can put the retractor into the abdominal wall clamp horizontally and vertically. Thus, it provides a large space to operate in the inner. Other instruments in this category are belly spatula(?) and fine retractors.
Customer information on the use of retractors and spreaders
Retractors are a group of surgical instruments that are used to keep access to the operating field open or even possible. The term describes a large group of sometimes very different instruments. Wound hooks are used in many different forms: blunt and rounded, in different shapes and sizes, they serve to keep aside sensitive tissues and organs such as the intestine, liver, lungs and others. Typical representatives are the Roux hook, the Langenbeck hook or the Fritsch hook. Sharp and pointed, as "single-hookers" or multi-pronged "sharp hooks", also "rake hooks", they are used to precisely distinguish less sensitive connective tissue. Specula are used to keep open natural body openings such as vagina, anus, nose or ear canal. Speculae can also be equipped with a spreading mechanism (e.g. anal speculum according to Parks) and / or a light source to ensure sufficient visibility in the depth of the body opening. Another important example is the laryngoscope. Wound spreaders (e.g. the rib spreader) allow the wound to spread with varying degrees of force depending on the area of ​​application and keep the access path passively open after it has snapped into place. In orthopedics and trauma surgery, levers and forceps are used on the one hand to ensure access to the bone, and on the other hand to hold the bone fracture in place until the osteosynthesis is completed. Typical examples are the Hohmann lever and the Verbruegge pliers. Until recently, major operations were performed by one surgeon and two assistants. The second assistant then had the task of keeping the area of ​​operation open with the help of the respective retractors. Nowadays, rigid mounts are increasingly being used, on which the required retractors can be attached in a freely selectable manner (so-called retractor systems).