Buy surgical surgical instruments for sutures such as needle holders, micro needle holders and wire cutters in surgical quality directly from the online shop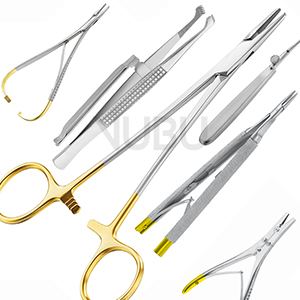 We offer our special suturing instruments such as needle holders in two different versions. The standard version is completely made of medical steel and offers the operating surgeon a good tensioning function of his needle and thus enables excellent needle guidance. Needle holders are exposed to very heavy loads and unfortunately lose teeth in their mouth over time. Our TC needle holders with hard metal inserts in the headboard take up this fact. The toothing is particularly resistant here and offers an excellent fixation of the clamped needle. For very fine work, we also offer micro needle holders and TC micro needle holders, which have a particularly spring tensioning system. You can recognize our needle holder with hard metal inlays by the gold-plated handle. You will also find a selection of TC wire cutters with hard metal for use with different wire sizes. Only the best carbide is used here. Overall, the category of suturing instruments also includes hollow guide probes, thread catchers, reverdin needles, ligation needles and various wound clamp pliers and tweezers.
Customer information on surgical wound care and the use of needle holders
In medicine, sewing refers to the form of tissue union using a needle and thread, whereby the ends are knotted. It is a basic and still indispensable surgical or operative technique, since a wound heals quickly without complications if the wound layers that lie together lie against each other without tension. This is made possible by a wide variety of suturing techniques and is intended to bridge the period of time until a resilient biological scar has resulted from wound healing. Sewing is a historically very old form of treatment. The most important advances have been and are being made with the materials, i.e. the needles and the threads. Different tasks require different sutures. In the past, natural silk and sheep gut (catgut) were used as sutures. Today, state-of-the-art plastics are used almost exclusively. Absorbable and non-absorbable threads First, a distinction is made between absorbable and non-absorbable threads. As described above, the suture only has a temporary task and suture material that remains unnecessarily in the body poses an inflammation risk. Therefore, accessible, non-absorbable sutures are removed after a sufficient time. This is called "pulling threads". For areas in which the threads for pulling cannot be reached, for example sutures on internal organs or in the subcutaneous fatty tissue, threads are used that are broken down (resorbed) by the body itself. Surgical sutures are classified according to their resorption time, the time in which they have lost half their strength, while the dissolution time is the time that elapses before they are completely dissolved. Absorption is not only a material-specific property, but also a function of time (hyperbole). The modern threads are hydrolytically split by the presence of body water. The size of the surface (and therefore the diameter) of the thread therefore play an equally important role as the type of sewn fabric, the moisture content of which varies.