Buy medical plaster saws, plaster scissors and bandage scissors for your medical, clinical and practice needs directly in the shop for medical technology from Tuttlingen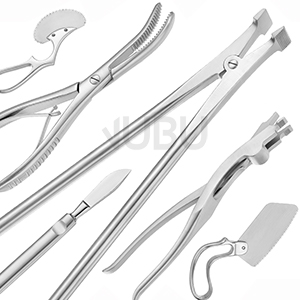 For a stronger cast, it is recommended to use Gypsum saws. There are hand saws and electric saws. You will also find individual blades available in our online store.
Customer information about the dressing material and fixation
Connecting instruments have a wide range of applications and therefore have to perform contradictory services. Of course, it is particularly important that associations should not cause any damage. A major problem of almost all wound dressings is the risk of the wound sticking or adhering to the dressing material and the then recurring damage to the healing process due to dressing changes. Above all, this problem must be solved by using suitable materials. In addition, bandages often restrict bodily functions, for example when rails immobilize joints. This not only reduces the quality of life, but can also lead to consequential damage that may be permanent. Positive requirements for dressings can be: Protection against environmental influences such as the penetration of pathogens, foreign bodies, dehydration, softening, overheating, cooling, UV radiation Protection against mechanical stress (immobilization), these can be stresses caused by movement that can open a wound or could lead to tearing of newly formed tissue, but could also be pressure loads. A typical example is the plaster cast application of medicines, in a simple form for fixing z. B. ointments or drug-impregnated pads to transdermal therapeutic systems compression of a wound to reduce swelling and scarring, from limbs for thrombosis prophylaxis or to support lymphatic drainage to reduce blood circulation up to binding hemostasis by slowing blood flow (mostly in connection with compressing Effect) and accelerated foreign body-induced blood coagulation, secretion absorption, which both prevent the softening of the tissue, as well as ensure the removal of healing-inhibiting substances, such as denatured protein from burns or pus.