Medical cannulas and trocar systems - Buy puncture cannulas and suction tubes directly online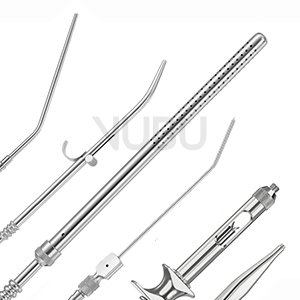 Our intake manifolds are particularly useful for sucking bodily fluids (usually blood). A fast and effective extraction is especially important in an operation for the surgeon to always have full visual access. Our intake manifolds are available with the following connection options: luer-lock and quick release. We are proud to offer our puncture instruments and trocars, which are used to obtain access to a body cavity, or for draining fluids from body cavities.
Customer information on the use of medical cannulas for a puncture
In medicine, a puncture is the targeted insertion of a needle or other pointed instrument. The tissue fluid or sample taken is called punctate. A puncture can be used for injection into the body (e.g. intravenous injection) or for removal from the body (e.g. lumbar puncture). For this, hollow needles (cannula, trocar) are used. Punctures are made for the injection of liquid medication, for the removal of body fluids such as blood, urine (bladder puncture), synovia (synovial fluid), cerebrospinal fluid (brain water) (lumbar puncture), peritoneal fluid, pleural fluid, bone marrow (bone marrow puncture), for taking tissue samples (fine needle biopsy ), for draining pathological fluid accumulations and for draining gas accumulations. Some organs are easy to puncture if they have the appropriate skills (e.g. superficial blood vessels, skin, liver). Other organs are difficult to puncture or the puncture is dangerous due to injury to the organ or neighboring organs (e.g. spleen, gallbladder, intestine). Imaging methods such as ultrasound or CT are used to puncture deeper organs.