Buy medical and surgical tweezers and pliers directly in the online shop for medical technology from Tuttlingen!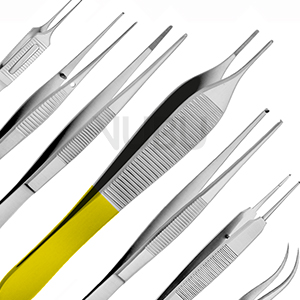 Our forceps are divided into two categories: surgical forceps and anatomical forceps. The former is characterized by sharp gripping or holding jaws at the front end, which engage each other like teeth when closing the forceps. Various lengths are available in straight and angled design. Anatomical forceps are characterized by rounded holding jaws with grooves and are ideal for grasping dressings, or for the gentle touch of tissue structures. We are especially proud of our developed tick forceps with which it is very easy to remove deep-seated tick heads. Our entire portfolio of forceps includes: Articulating Paper forceps, atraumatic forceps, eyes forceps, cilia forceps, barrel forceps, fixation forceps, ear forceps, micro forceps, muscle forceps, fine forceps, splinter forceps, tumor forceps, watchmakers forceps, and tooth forceps.
Customer information on anatomical tweezers for use in the OR
Anatomical tweezers are tweezers whose jaws are marked by transverse grooves. It can be straight or with a bent front end and is manufactured in different lengths. Anatomical tweezers are suitable for the gentle detection of easily vulnerable structures, such as blood vessels or nerves. It is therefore mainly used in anatomy (hence the name), but is also used in surgery for this application. However, the tissue-protecting property has the disadvantage that detected structures can slip out of the tweezers. In contrast to surgical tweezers, a strong pull is not possible. Anatomical forceps are available in numerous special forms, most of which are named after their developer: Adson (after Alfred Washington Adson) Brophy Cushing DeBakey (after Michael Ellis DeBakey) Gerald Hudson (after Ewald Hudson) Micro-Adson (after Alfred Washington Adson) Mc Indoe Potts-Smith Semken Singley-Tuttle Silent Taylor Wangensteen (after Owen H. Wangensteen) Waugh.