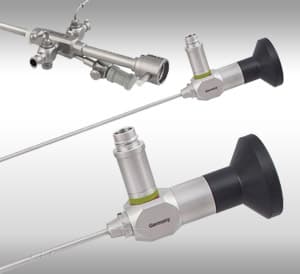 All endoscopes and instruments from VUBU - Medical are manufactured in Germany. We place the highest value on the fulfillment of all quality requirements and compatibility with most major manufacturers. We will gladly make you an offer for repair or replacement of your endoscope.
Furthermore, we introduce Fiber Optic Light Cables in the standard version, high-power LED light cable for use with LED light sources as well as a variety of adapters for connecting to the most common light sources and endoscopes.
Just call us in Germany tel.no. 0049-7462-944486 or write us an email to info@vubu-medical.de.
Overview of the use and description of our medical endoscopes and fiber optic cables:

Rigid endoscopes for arthroscopy, hysteroscopy and laparoscopy
We currently offer rigid endoscopes with diameters from 2.7mm to 10mm with a usable working length from 50mm to 480mm. With us you can choose between different grades (degrees) and optics such as foresight optics, steep view, wide angle and straight view optics. We also carry combinations of optics. All endoscopes are autoclavable and have a built-in fiberglass light guide. They are very resistant and scratch-resistant thanks to sapphire glass. The standard shaft lock is compatible with Storz.
Standard cold light cable - flexible and inexpensive fiber optic light guide cable

The standard fiber optic cables are ideally used with halogen light sources.

Please note that the standard fiber optic cables are less suitable for use with high-energy xenon light sources.
Buy LED high-performance cold light cable

suitable for use with modern LED light sources. This enables a significant increase in transmission, which has a positive influence on the light output of HD optics.
Adapter system for all cold light cables

Each cold light cable needs two adapters - one for the projector side (light entry side) - the other for the endoscope connection (light exit side). We carry all common adapters e.g. following known endoscope and light source manufacturers:

RfQ / Storz / Wisap / Aesculap / ACM / British / Welch Allyn / Stryker
Wolf / HSW / Dyonics / Medicon / Winter & Ibe
Heine Optotechnik / Schott / Zeiss (colposcope) / Zeiss (surgical microscope)
Olympus / olpi / FOT / Schölly / Fuji / Pentax

Endoscopes include rigid and flexible endoscopes and their subspecies. Manufacturer-specific names are often used for endoscopes, e.g. for rigid endoscopes: borescopes or also boroscopes, technoscopes, autoscopes, intrascopes; for flexible fiber optic endoscopes u. a. Fiberscopes or flexoscopes. Usual working diameters of rigid borescopes are 1.6 to 19 mm. Semi-rigid borescopes (also called elastic or semi-flexible) are available from 1.0 mm, flexible endoscopes from 0.3 to 15 mm and video endoscopes from 3.8 to 12 mm.
Buy rigid medical endoscope from VUBU-MEDICAL

A rigid endoscope (English / Technical Rigid Borescope) forwards the image information of the object or room to be examined through a lens system inside the endoscope shaft to the eyepiece. Examples are the technical borescope (see below) and med. the arthroscope and cystoscope. The rod lens system developed by Harold H. Hopkins is very common. Here the light is guided through rod lenses made of quartz glass and refracted at air lenses between the rods. This very bright design enables smaller lens diameters. Most current endoscopes offer a focusing ring near the eyepiece, so that the image can also be adjusted to the optimum sharpness for those who wear glasses. The light from the light source required for the examination / inspection is transported to the tip of the endoscope via the connected light guide, also inside the shaft through glass fiber bundles. The price of a rigid endoscope depends on the quality of the lenses used, the viewing / viewing angles of the lens and the working length or working diameter. On average, this is an amount in the rather lower four-digit euro range. Rigid endoscopes with a pivoting prism reflecting on the lens side can look to the side in cavities. By rotating the endoscope in its main axis and pivoting the prism that deflects the viewing direction from it, a larger solid angle in the cavity can be viewed in a scanning manner. A small polished metal mirror, which is connected to the endoscope lens head by a flexible wire and push-on sleeve, does a similar job.